I recently read on an instgram post: "It's only one plastic straw" said 8 billion people. This just demonstrates so clearly how the little changes we make can have a big impact.
If you are starting out your plastic-free journey, let's be honest, it can feel a little bit overwheming. Where do I start? My best advice is to target your consumables- the things you use and replace over and over again.  At Figgy & Co we are all about home cleaners so I've written an quick and easy to decipher break down of two Figgy & Co. products that will omit plastic from your cleaning routine (as well as omitting the chemicals from your life)! Little steps like these can make big long-term change as you reduce your plastic consumption. So here goes..
Option 1: Deluxe paste & spray pack.
This pack will provide you with about one-year worth of home cleaning staples and retails for $55. The pack will make approx 6 x 250gm batches of cleaning paste. This is cream cleanser for hard surfaces and is akin to a jif type product. Perfect for baths, showers, sinks, tiles…. literally any hard surface. You will also be able to make 25 bottles of bench spray with this pack- this is perfect for kitchen benches, tables, high chairs, wet dusting… again any hard surface that needs a wipe down.
Enclosed in the pack:
1 x 500ml home cleaning soap. This comes is glass bottle which is easily reused or recycled. We hand-batch this in Wellington from 100% coconut oil. It is the backbone of our DIY cleaners and is super effective! As its made at Figgy HQ the soap travels from us to you and is not imported- hooray!
1 x 1.5kg baking soda. This comes in a brown paper bag secured with real cellulose tape making the entire package home compostable.
1 x Essential oil of your choosing! These little glass vials bring an element of delight to DIY cleaners as well as being antimicrobial too!
1 x 500ml glass trigger bottle. This is what you will make your bench spray in over and over again. Disclaimer- the trigger head is made from plastic, but we have sourced a durable commercial grade product that you will not be throwing out. Like the glass bottle this is designed to be used over and over again. This means you do not have to purchase a whole new plastic bottle and trigger head every time you need a surface spray.
1 x 250gm glass bottle. This is what you will store your cleaning paste in. Again it is sturdy and designed to be used indefinitey.
1 x recipe card. This will walk you through the steps of batching up and show you just how easy it really is!
Perhaps the best thing about this pack is that you may never need to purchase plastic cleaning vessels or plastic lined ingredients again. When your soap, baking soda and essential oil run out, your glass trigger bottle and glass pottle will still be good to go. Just restock up on these ingredients and your next year of cleaning will be sorted too!
Option 2: Pre-order laundry powder
Our hand-batched laundry powder is something special. It contains only natural and non-toxic ingredients (including our power house home cleaning soap) and is made by us at Figgy HQ. It contains NO EXTRAS- that is, every ingredient is contributing to the laundering- you won't find any builder or filler ingredients here! Its tough enough to handle the day-to-day laundry burden, but gentle enough to be used for babies or those with skin irritations including ezcema and dermatitis.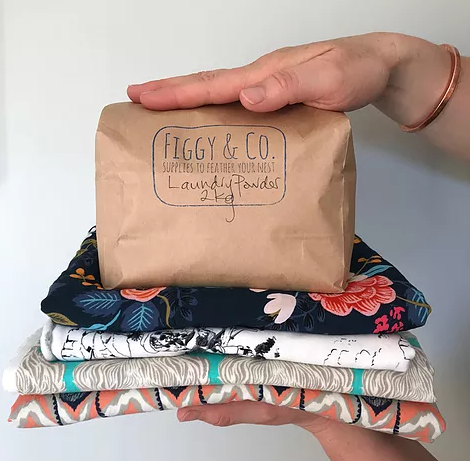 On the first four days of every month we open up pre-orders for 2kg laundry powder. We batch it up and send it to you in a brown paper (home compostable) bag and there is not a hint of plastic in sight! It is a genuine zero waste option. It's very important you store your powder air-tight once you receive it – there are no anti clumping agents in our powder keeping all the grains separated (thank goodness). Because there are no fillers the laundry powder is very concentrated – this means you will only use 1 tablespoon per 6kg load of washing; one 2kg bag will last 100 washes and works out at $0.30c per load.
Orders for July are open now until Wednesday the 4th July.
As you can see, one or two small changes to your current cleaning habits can make changes that are sustainable and permanently reduce the plastic use in your home – with the massive added reward of reducing the chemicals in your home also. I hope plastic-free July is successful for you whatever changes you make and best of luck. Start small and if we all do the same big things will happen!