Did you know that using white vinegar as your laundry softener is an effective and natural alternative. This one switch out can reduce a whole host of chemicals you're better off without. Primarily vinegar works to soften fabric by reducing soap and residues and by dissolving mineral build up. By contrast, fabric softener works by coating the fabric with electrically charged chemicals that cause the threads to stand up and in turn feel softer and fluffier. It doesn't take much research to figure out why vinegar is so great. The benefits of vinegar as your laundry softener are far reaching so we've done our best to condense this information for you below.
What is Figgy strong white vinegar?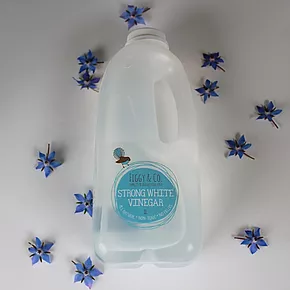 Figgy vinegar comes from Canterbury, NZ, where it is naturally distilled from milk. It is 9.9% acetic acid which is approximately double the strength of regular white vinegar. Many vinegars are laboratory synthesised and created with petroleum products – but not ours! The benefit of our strong white vinegar is you can use it neat, or dilute to achieve a "regular strength" white vinegar. This saves you on both postage and plastic, and gives you the convenience for when a stronger brew is necessary.
To use: Add 1/4 cup of strong white vinegar per load to the fabric softener dispenser. Optional: essential oil can be added to the vinegar for scent (3-6 drops). As your clothing dries the smell of vinegar will dissipate.
But our vinegar is not a one-trick pony. As an added bonus Figgy strong white vinegar is also great as the rinse aid in your dishwasher, as a glass & mirror cleaner, with a mop will shine up wooden floors and is a natural disinfectant making it a great spray cleaner.
Available in 1 litre ($13.50) from the Figgy webstore, or 10 litres ($95) for pick-up only in Wellington!