Like all good 'health' plans, there's a little room for improvement and a few cheats days here and there.  Figgy products are awesome and I'd like to be able to say I use them 100% of the time for all my household jobs, but the reality is I do my best where I can and where they work for me, but I don't put pressure on myself or feel guilty for using 'regular' products as well.  A combination suits me perfectly.
My Figgy journey began over a year ago.  I have always been open to a bit of household product DIY and keen to give making my own products a go.  When my daughter was very young I noticed she was getting a skin rash and I worked out it was coming from (what I thought was) a 'natural' bubble bath.  Upon closer inspection, one of the ingredients was an '(artificial) fragrance'.  I stopped that product and almost immediately the rash went away. From then on, I've been much more aware of what ingredients are in products I'm buying and to not get sucked into the common false marketing of a lot of products claiming to be 'natural' or 'eco'.  This was one of the reasons I was excited to make my own products and know exactly what was in them.
 I began with body products first and from there it was very easy to progress to cleaning products and many of the ingredients were used in both.  At this time I was purchasing a well known overseas brand as my base detergent/castile soap, as I was not aware of any that were made in NZ.  I had success in making laundry liquid and a few basic cleaners, but I noticed my daughter's rash had returned.  How could this be?  Everything was 'natural' right?…. wrong!  The only ingredient I brought which I didn't know the exact ingredients of was an unpackaged plain old yellow laundry soap from a bulk bin store (needed for laundry liquid recipe) – which smelt very 'lemony' – that darn fake fragrance had stricken again!
Right about this time an advert for a local Figgy demonstration evening pops up and after hearing Aimee and Jane speak and explain their products, a lot of ahhhhh moments happened and I was very excited to find out that they don't only stock an amazing concentrated 'liquid soap' but also a coconut bar soap – fragrance free! So obviously I can't wait to test my 'fragrance' theory and get a new batch of liquid laundry made up right away (I didn't waste my other of course, I gave away to friends without sensitive skin 😊).  Brilliant result, clothes and sheets re-washed and… absolutely fine on my daughter's skin, and even better…. IT CLEANS WELL!  After using the laundry liquid for a while I thought I'd give the powder a try (really I just wanted an excuse to use a pretty storage jar 😉) and the results were just as good.  I teamed this up with Figgy's 'Laundry soak' recipe and this was awesome during the summer to soak the hubby's cricket whites – this combined with natural sunlight outside was a perfect match for stain removal and brightening whites.
One thing I'm amazed at is the value for money with Figgy's products.  I haven't done the math, but I would love to know the stats of how many products you could make with just one 1L bottle of the Figgy liquid soap – A LOT!  To make up a bottle of bench spray uses just one teaspoon!!!  Amazing and it makes me realise how passionate Jane and Aimee must be about their products and how accessible they are to everyday people and how little you require to make up the recipes.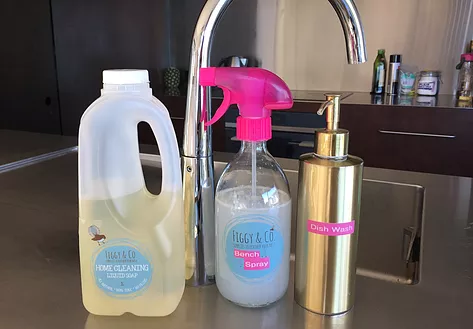 Why 60:40?  Well the main reason at present that this ratio is not higher is that I'm still making my way through products and DIY basics that I had brought previously to my Figgy discovery and which I didn't want to simply waste.  I'd say 80:20 will be my ideal goal!
BUT… confession time… there are a few regular products I use and am happy to do so – and this is absolutely a personal preference.  Toilet cleaner is one of them and I also use a well-known brand of laundry liquid solely for the hubby's wash as he's a builder and his clothes do need that little extra omphhh and yes, some nasty old fake fragrance! Other than these and a few other specialised cleaners, I make my own (with Figgy's help): bench spray, Dish wash liquid, Dishwasher powder (so easy!), Rinse Aid (vinegar!), Laundry powder & laundry soak.  I also love the cleaning paste – especially for shoe cleaning – you know those white bits on sneakers that never stay clean, well this is amazing stuff, I wish I had taken a 'before & after' pic to show the difference.
Another thing I love about Figgy and DIY products is the reduction in packaging waste.  Like a lot of people these days I'm becoming more and more aware of plastic and single use packaging.  I like that with any of the DIY recipes, I can get all the ingredients in bulk to store and use when needed.  Again, rather than being another thing to feel guilty about, I'm happy that doing what I can here and there is much better than doing nothing!
So my Figgy journey is only beginning and there's so many more recipes that I'm looking forward to slowly incorporating into my household cleaning, but in the meantime I'm more than happy to be using a combo of DIY AND store-brought products that work for me.  My advice to anyone new to DIY and trying to eliminate or at least reduce nasties in your household cleaning products, is to at least give it a go! Pick one thing to try and go from there.  And there's absolutely no pressure to swap 100% of your products, you can be a 60:40 (or higher!) Figgy Fan like me 😊