Finally we are poking our heads out of the door, opening the windows and smelling the scents of spring flowers!  Spring is such a wonderful time of year- everything is starting to come alive and awaken, and we get more daylight. So naturally this is the time of year to exchange the cooped-up winter feel of your home for a summer ready abode. Think indoor-outdoor flow, warm breezes and no more fireplace dust.
Quality products are fundamental to a good spring cleaning routine, and for quite some time I have only used homemade cleaners; mainly white vinegar, water, baking soda and essential oils. However one of the challenges I have faced is sourcing quality ingredients to make my natural cleaners, as well as durable containers and sprays so I can refill. Well my friends, I have found the holy grail of natural cleaning products and they are produced here in our own beautiful Aotearoa in Poneke/ Wellington by Figgy & Co.
Figgy & Co. is an online store founded by two awesome women, Jane and Aimee. What I love about their products, besides the quality, are the options available. You can grab ingredients and hardware to DIY and/or purchase ready made cleaning products known as the made-for-you range. As I am a DIY-er I decided to get The Figgy Sampler, the ultimate DIY starting place. The Sampler arrived really quickly and in a well packaged box, using only cardboard and paper for packaging. The Sampler comes with the Figgy recipe booklet so you can work out what recipes you'd like to make. I was very surprised by the amount of ingredients that came with the Sampler (see below picture), you can pretty much make a little of every cleaner to see what will work for your home.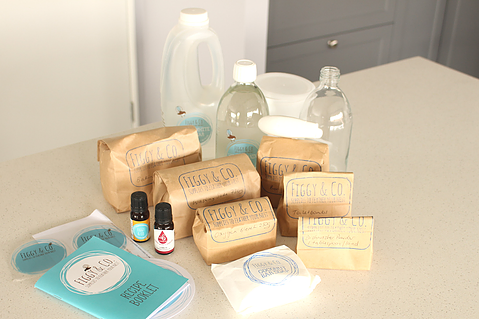 I set about working out which cleaners I want to make first and decided that I`d replace my cleaning kit cleaners. In my kit I generally use two cleaners, a general spray and a scrubber. So I made up the Figgy Cleaning Paste and  Figgy Disinfectant spray. These cleaners are amazing – and because the Sampler comes with you two essential oils (which you choose) they also have such a lovely scent. These recipes were really easy to follow as all the instructions are explained step by step in the recipe booklet. P.s you can access a selection of their recipes online to get you started, but the recipe booklet has the complete collection.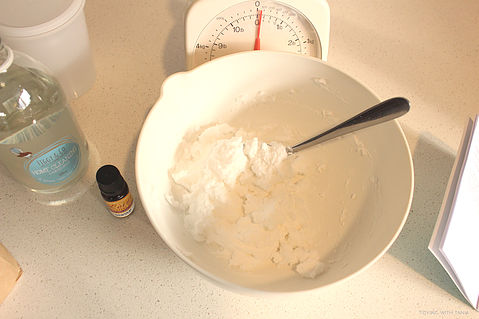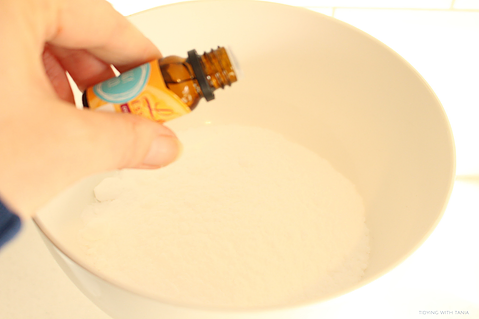 One of the things that I was delighted about with the Sampler was the Figgy S.O.S Spray and the Figgy Toilet Cleaning Powder. Making up both of these cleaners meant that I could get rid of my toilet cleaner and bleach. So now my cleaning kit is entirely natural…whoop whoop!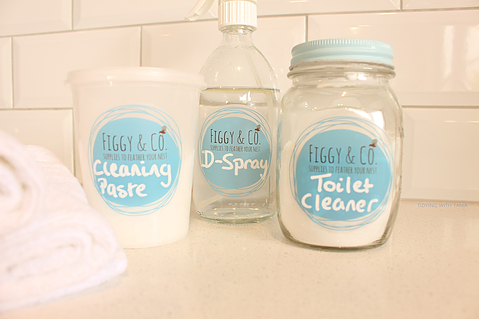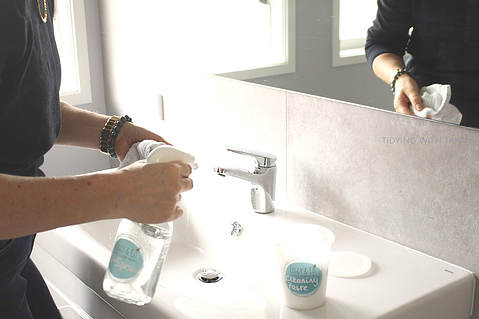 In my cleaning routine I use the Cleaning Paste to clean down all the sinks in the kitchen, bathrooms and laundry, as well as the bath and shower. The D-spray (disinfectant) is perfect for all the surfaces, even the shower glass, and the toilet powder is well …you guessed it for the toilet!. The Sampler also came with some Figgy Toilet Bombs which are a variation of the toilet powder – you just pop them in the loo, they bubble away, all the while whitening and sanitising the bowl.
What is amazing about the Sampler is the amount of cleaners that you can make up. It is such great value and you get essentially a kit which will get you all set up for all cleaners you need across the whole house. In addition to what I have already mentioned you can also make laundry products, washing powders and soakers and refills. The whole house really is covered!
I am currently updating our laundry and will be doing a post about this along with the cleaning and washing products I made using the Figgy Sampler.  To keep up to date with this be sure to sign up to my newsletter – you can do this at my site Tidying with Tania. Also, if you're more of a regular cleaner, and want to avoid the big Spring Clean check out my post "How to avoid spring cleaning". You'll be able to use the Figgy DIY cleaners in your cleaning kit, and keep on top of your cleaning all year round!
Tania x